Regular price
Sale price
$30.00 USD
Unit price
per
Sale
Sold out
**Zyzven Naturals and NAFI Caffeine (Coffee) Body Scrub - 200g**
**Product Overview:**
Zyzven Naturals, in collaboration with NAFI, introduces a rejuvenating Caffeine (Coffee) Body Scrub. This 200g scrub is a blissful blend of natural coffee grounds and nourishing ingredients, designed to invigorate and refresh your skin. Ideal for all who love to indulge in the natural goodness of caffeine for their skin care.
**Key Features:**
- **Energizing Coffee Formula**: Made with high-quality coffee grounds, this scrub not only exfoliates but also stimulates the skin, providing an invigorating and refreshing experience.
- **Natural Exfoliation**: Gently removes dead skin cells, promoting smoother, more radiant skin. It's perfect for rejuvenating dull and tired skin.
- **Skin Firming Benefits**: The caffeine content is known for its firming properties, helping to tighten the skin and reduce the appearance of cellulite.
- **Rich in Antioxidants**: Coffee is a natural antioxidant powerhouse, which helps to protect the skin from environmental stressors.
- **Nourishing Ingredients**: Enriched with oils and natural extracts, this scrub leaves the skin feeling soft, moisturized, and rejuvenated after each use.
**How to Use:**
- **Simple and Effective**: Apply a generous amount to wet skin in a circular motion, focusing on rough areas like elbows, knees, and heels. Rinse off thoroughly. Use 2-3 times a week for best results.
- **Revitalizing Routine**: Make this scrub a part of your regular skincare routine for consistently smooth, radiant skin.
**Ethical and Sustainable**: True to Zyzven Naturals and NAFI's ethos, this product is made with ethically sourced ingredients and is environmentally friendly.
**Who is it for?**
Our Caffeine (Coffee) Body Scrub is perfect for anyone looking to naturally exfoliate and rejuvenate their skin. It's especially great for coffee lovers and those seeking a natural way to improve skin texture and firmness.
Dive into the world of natural exfoliation with Zyzven Naturals and NAFI Caffeine (Coffee) Body Scrub – your key to energized, glowing skin.
---
**Note:** As with any skincare product, it's recommended to do a patch test first to check for any sensitivities or allergic reactions. Avoid use on broken or irritated skin.
Ingredients:
Aqua, Coffea arabica (Coffee) Bean powder, Prunus armeniaca (Apricot kernel oil), Cetearyl alcohol & Polysorbate 60, Pumice, Helianthus annuus (Sunflower oil), Cocos nucifera (Coconut oil), Potassiumoleate, Potassium cocoate, Potassium citrate, Citric acid (Castile), Persea gratissima (Avocado oil), Vegetable glycerin, Phenoxyethanol, Ethylhexylglyerin, Stearic Acid, Xanthan gum, Avena sativa meal extract (Oat silk), Coffea Arabica Seed Oil (Roasted coffee oil), Coffea Robusta Seed Oil (Green Coffee oil)
Share
View full details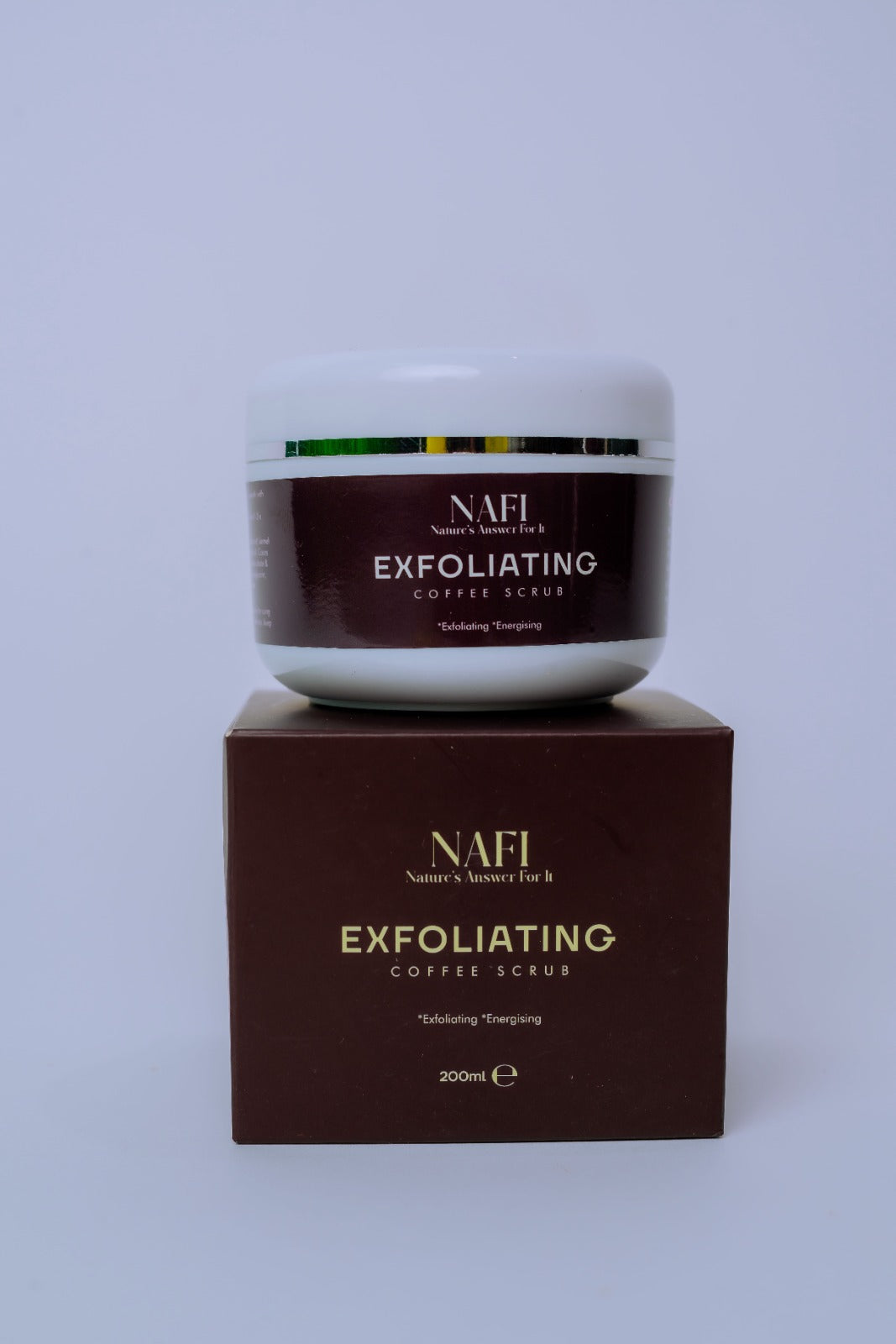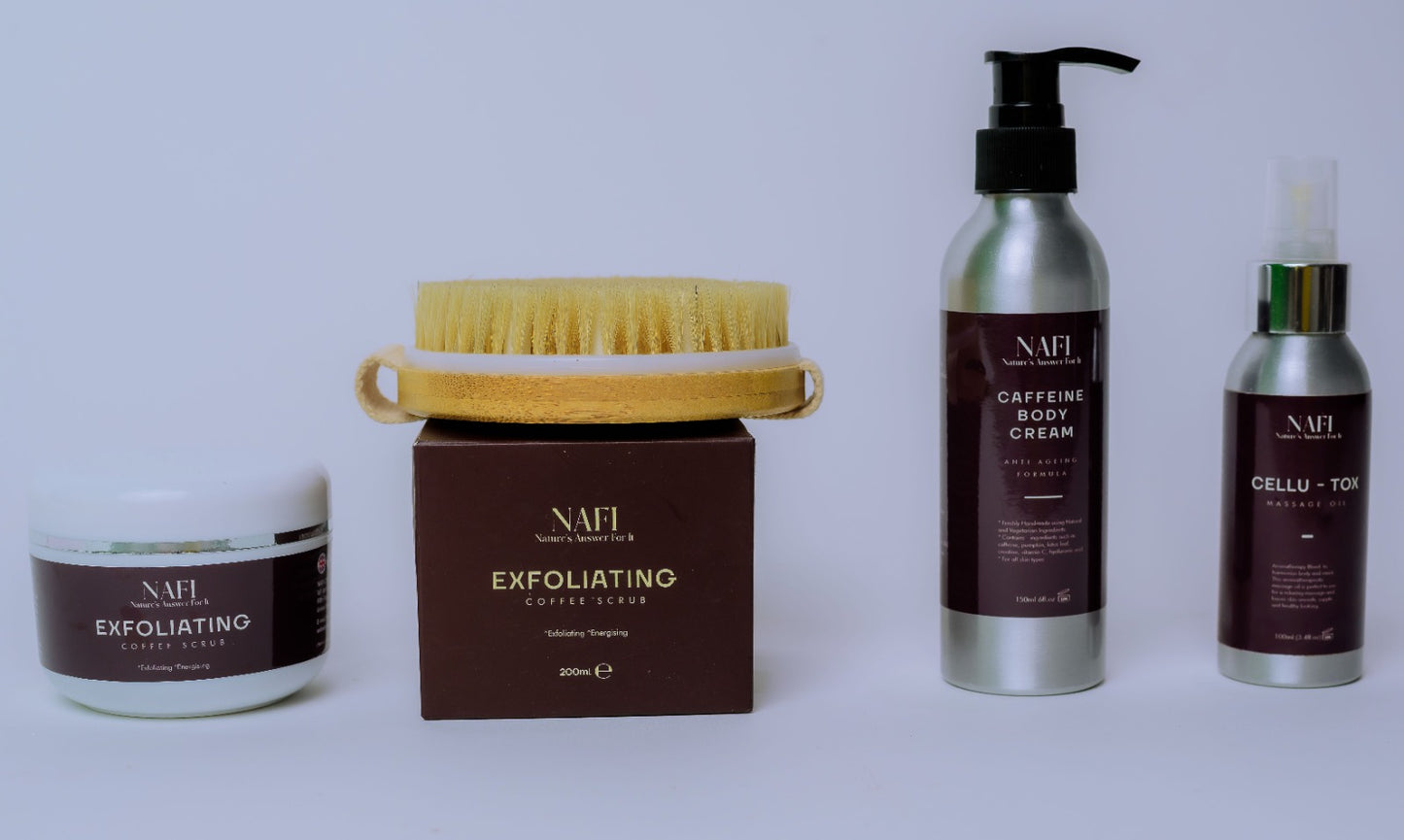 Clinically Effective Skincare & Wellness Products
Handmade with melanin in mind. Zyzven Naturals is using maroon herbs to create a skin and hair care revolution.
Using premium ingredients we have combined tradition and function to help you elimInate your blemishes.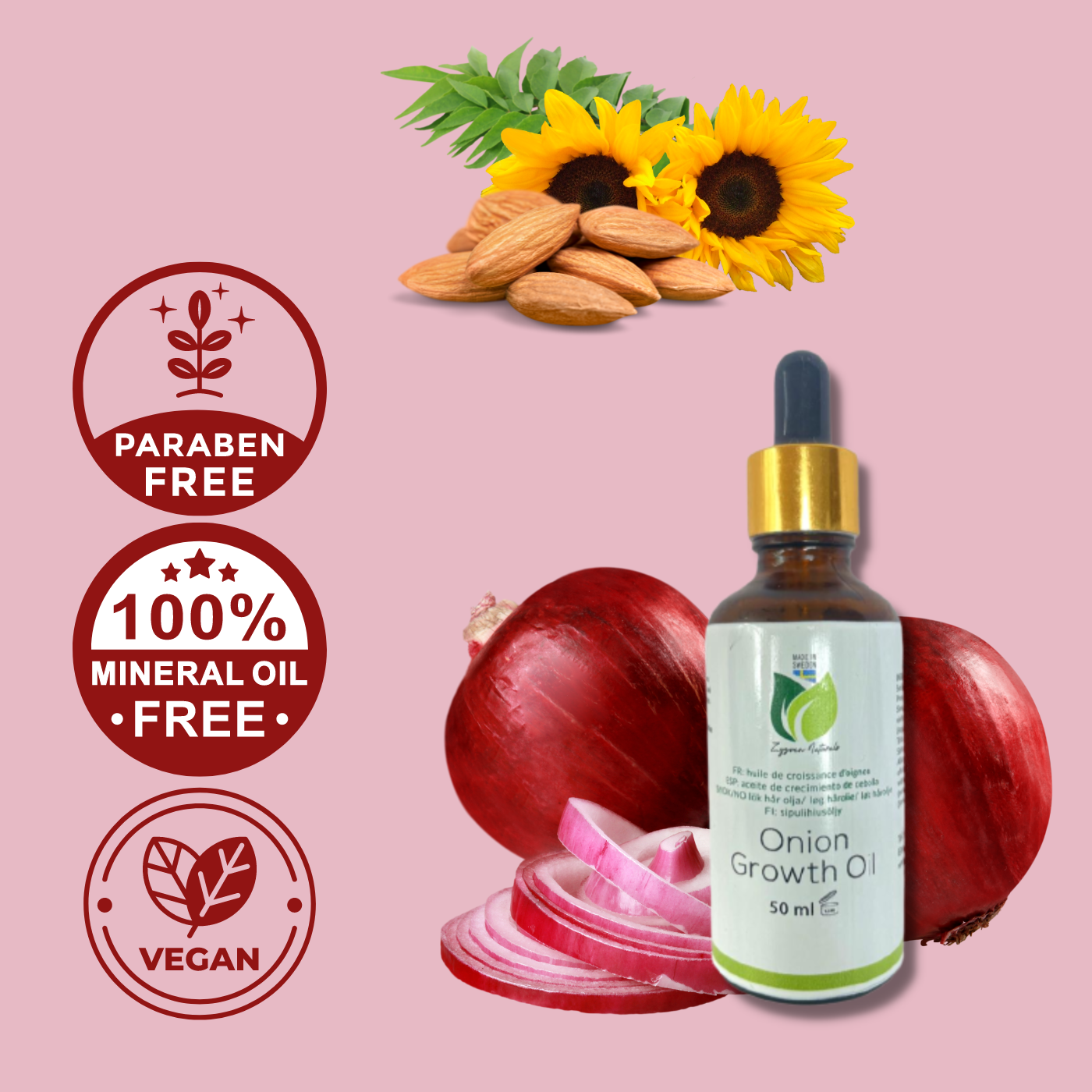 Zyzven Naturals Onion Growth Oil 50ml
-A Blend of 14 different Natural Oils Herbs and extracts
-Its Paraben, Mineral Oil and Sulphate Free
-Ensure Healthy and Thick Hair
-Boost Hair Regrowth and Prevent Hairfall.
Choosing a selection results in a full page refresh.
Opens in a new window.
Net Orders Checkout
| | | | |
| --- | --- | --- | --- |
| | | Subtotal | $0.00 |
| | | Shipping | |
| | | Total | |
---
Shipping Address